Chic Santorini Wedding
Our #MZBride of the week is the fabulous Kristie Thompson who got married in our Custom New Fiona gown. Surrounded by their dearest and nearest, the couple held their absolutely breathtaking wedding in front of the Aegean Sea in Santorini, Greece at the Cavo Ventus Luxury Villa.

In the following interview, Kristie shares with us how she started planning her wedding journey and will give you her exclusive tips!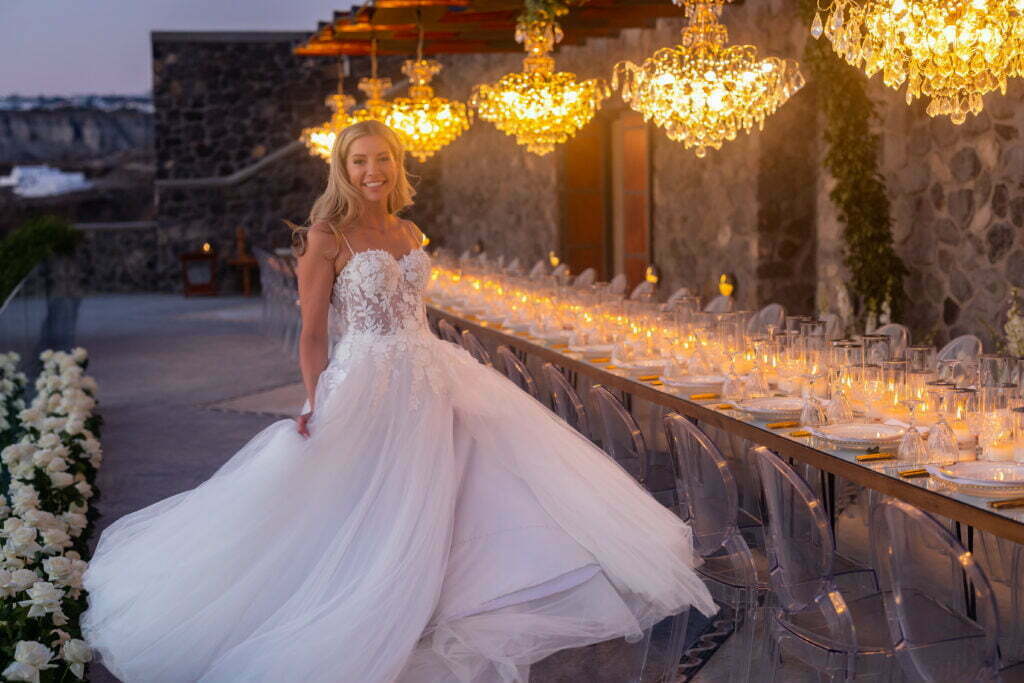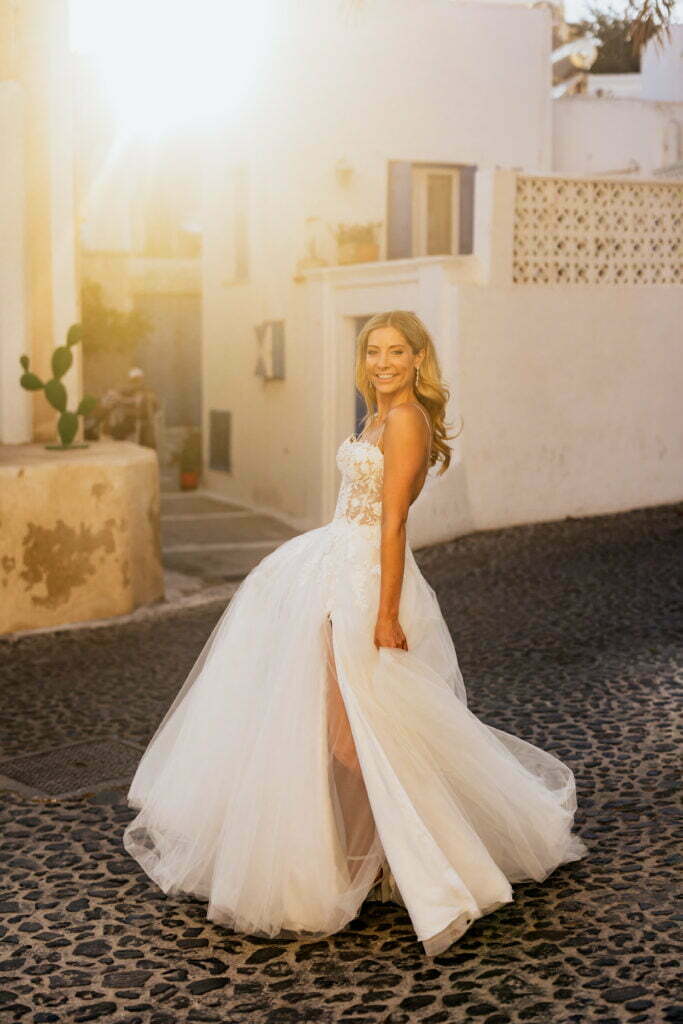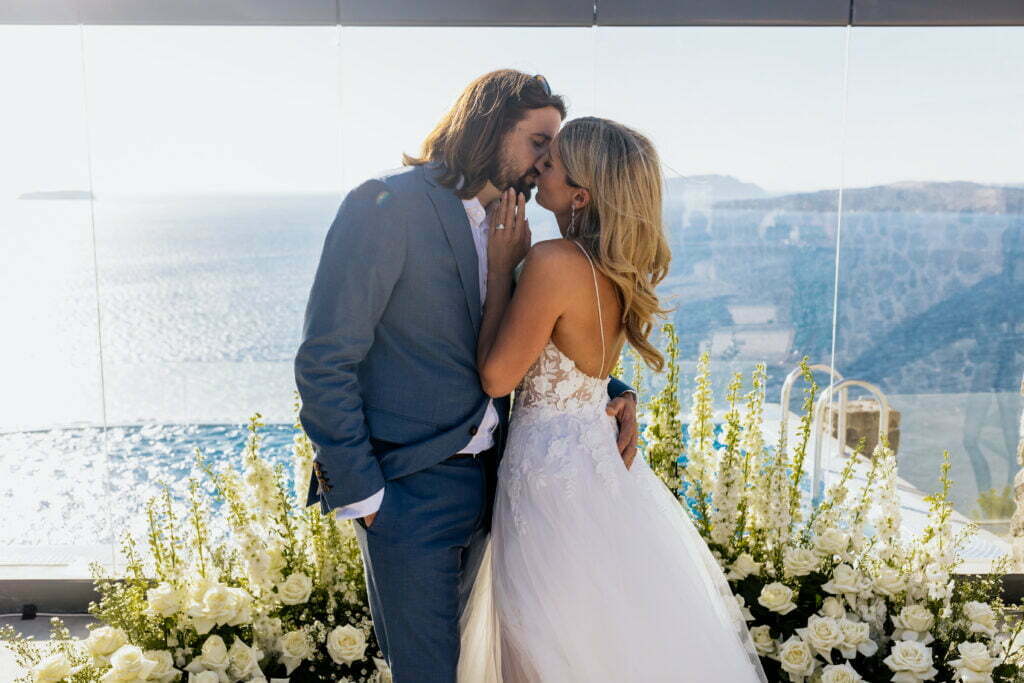 How did you start planning your wedding? What were the first steps?
It all began in 2019 when we got engaged in Greece. My now-husband Sean, crashed a girls trip and ended up proposing to me at a beautiful restaurant during a breath taking sunset in Santorini. 

We may not have traditional Greek ties, but it was impossible to not fall in love with the culture and landscape. We were eager to share this special country with our closest family and friends. 

Then all the weeks of research began, from extensive online searches to asking other brides, we ended up hiring the best wedding planners in Santorini, Julia & Evita. They are a mother-daughter duo from Greece who know the island very well and truly made my vision a reality.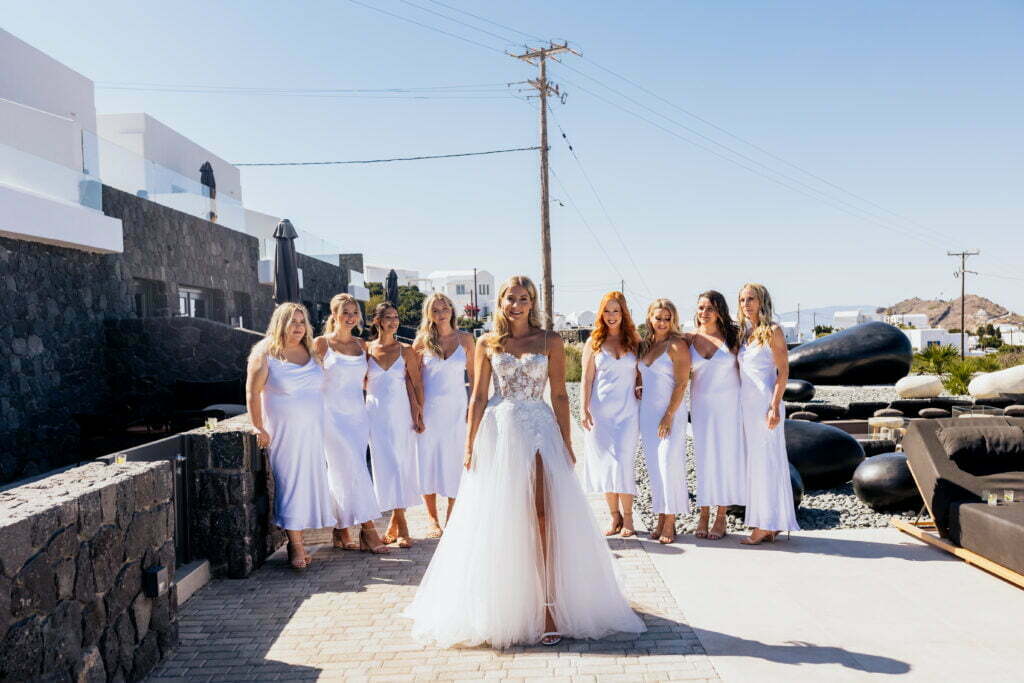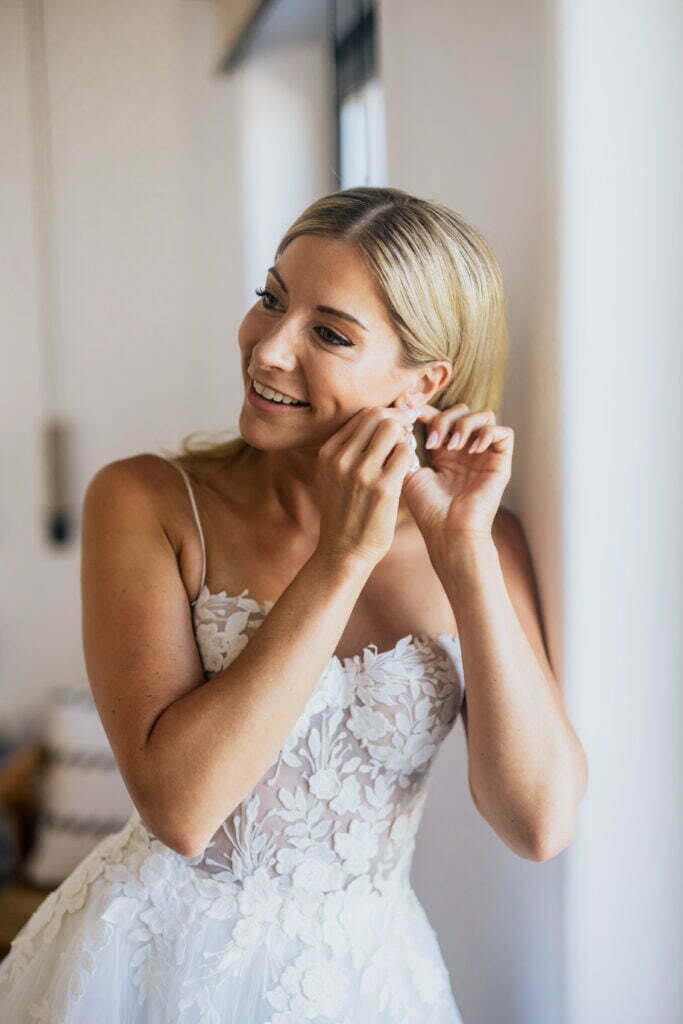 How did you know your dress was 'the one'? 
After months of searching online and narrowing down the style of dress I wanted, it was incredibly exciting finally walking through the doors of Powder Bridal. 

I chatted with the owner and was pretty adamant about trying a few styles, including the trumpet silhouette. While the owner listened, I caught a glint in her eye as she pointed out the stunning Fiona Dress and said, "Please give this one a chance and then we can try all the styles you asked for." 

I put on the first trumpet silhouette dress, and was met with positive reactions from family and bridesmaids. But once I came out in the Fiona Dress, one of my bridesmaids, who has a good eye, began crying. My mother immediately followed suit. That moment where I saw their genuine reactions is when I knew the Fiona Dress was for me.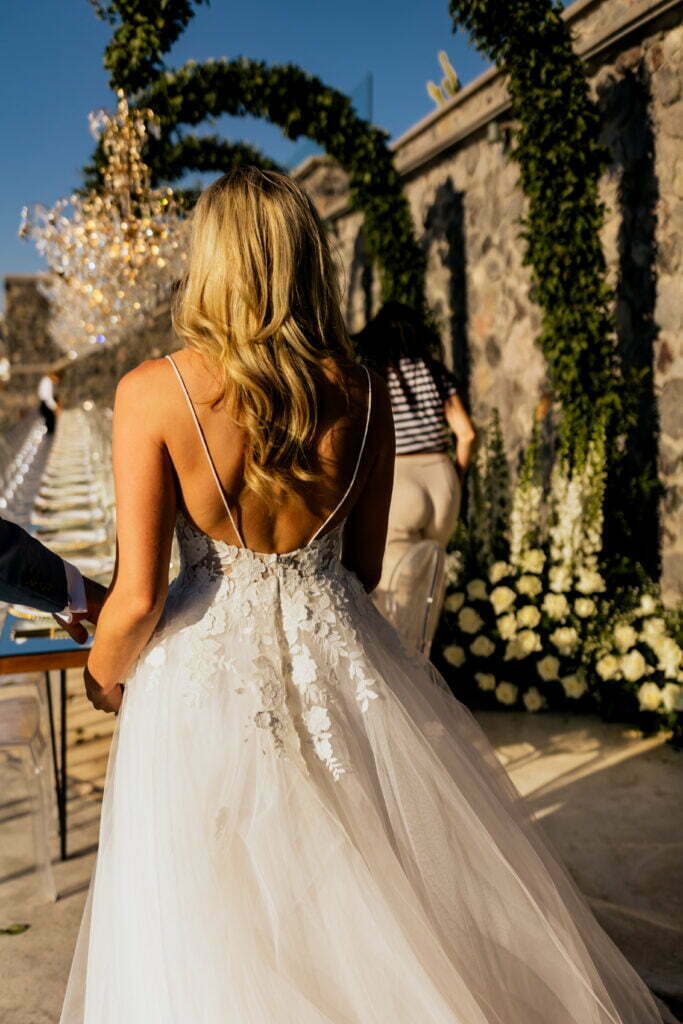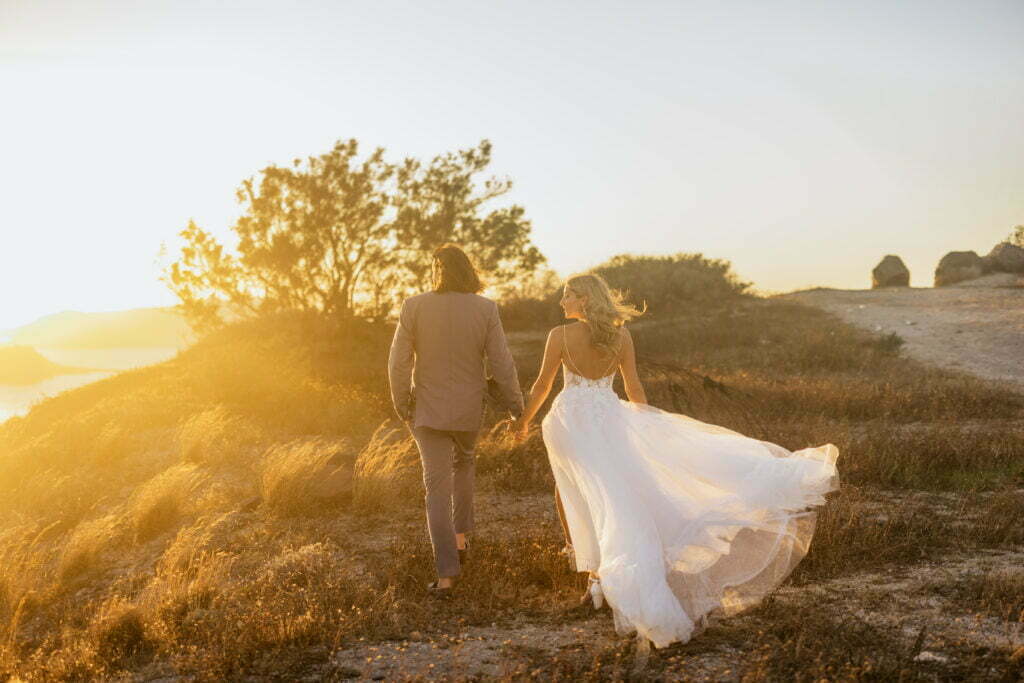 How did you find working with the bridal store team?
The highly-skilled staff at Powder Bridal truly made my wedding dress dreams come true. Their service was exceptional, and the ladies were incredibly helpful and kind. 

When I requested a leg slit, their in-house Seamstress was very precise and ensured the dress was perfect before I left for Greece. 

Despite the restrictions throughout pandemic, I felt safe at Powder Bridal with their precautions. They also maintained communication and their timelines which meant I did not need to worry about the dress being ready on time. 

I would recommend Powder Bridal - tell them Kristie sent you!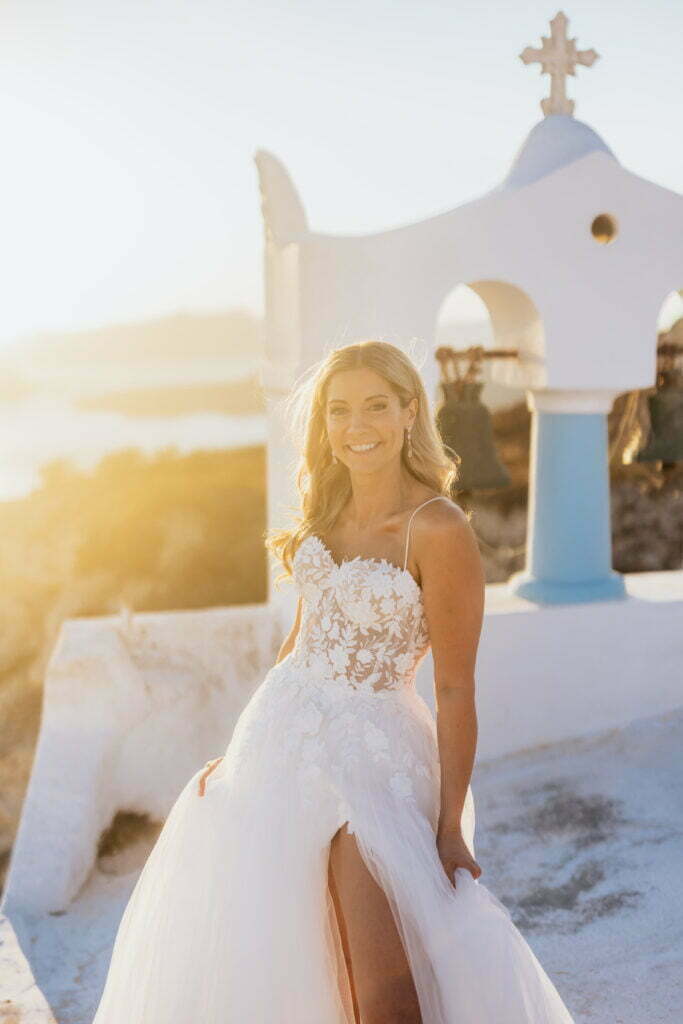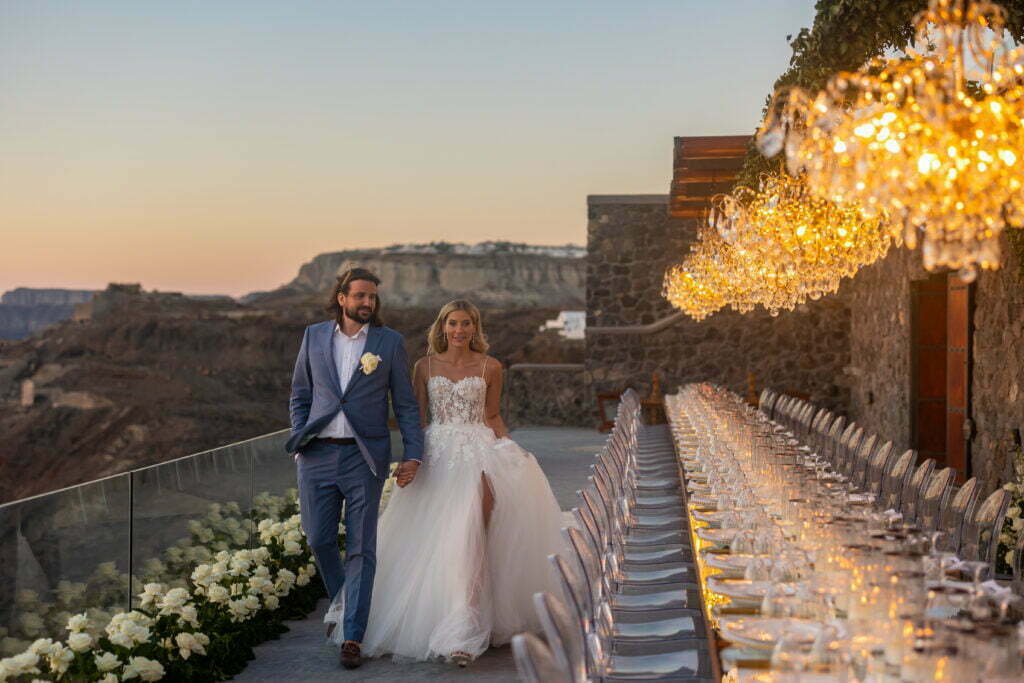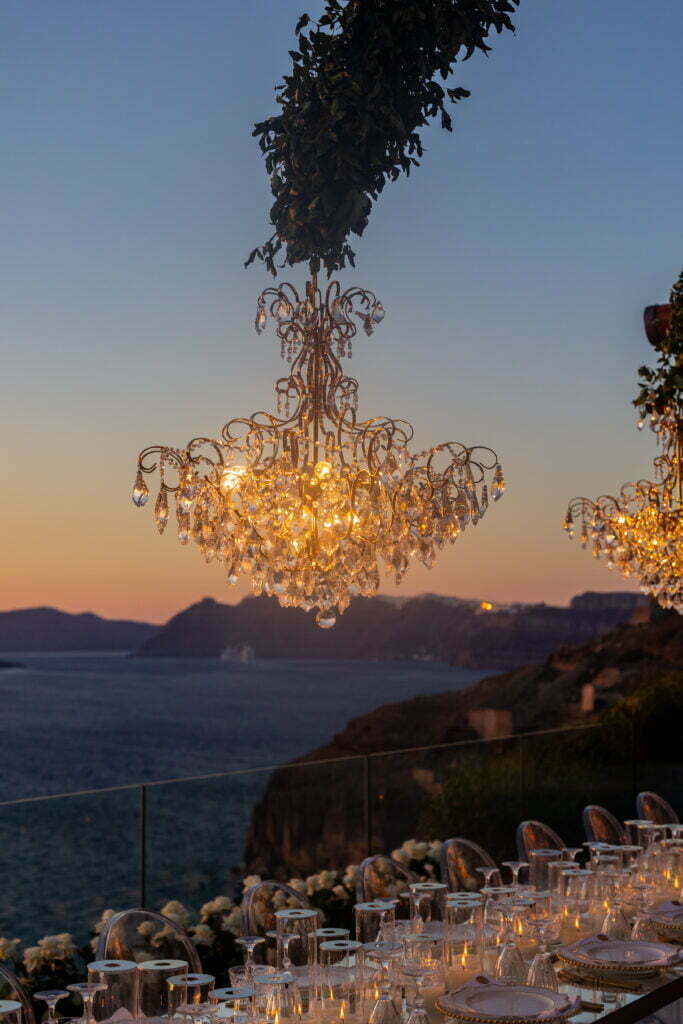 3  advices that you would give to our future brides? 
1. Trust your gut when deciding on your dress. I wanted to ensure it reflected my style, comfort level and the venue in Greece. It was the perfect combination of flowing and breezy while being sexy. 

2. Host a welcome cocktail party with all your guests before the wedding. This allows them to break the ice with one another and allows you to thank everyone for attending. I have spoken to many brides who didn't enjoy their wedding day because they spent the whole time thanking their guests. Your wedding day is ultimately about the love between you and the groom, and you should be able to enjoy every little moment because it flies by in a flash.

3.  Don't sweat the small stuff.  Due to wind, we had to change the location of the ceremony the night before. I thought to myself, I can handle this one of two ways: get upset and let it ruin my special day or accept it and realize that no one will know the difference. The most important thing is that all your family and friends are there supporting you, and you should be grateful everyone is celebrating your love.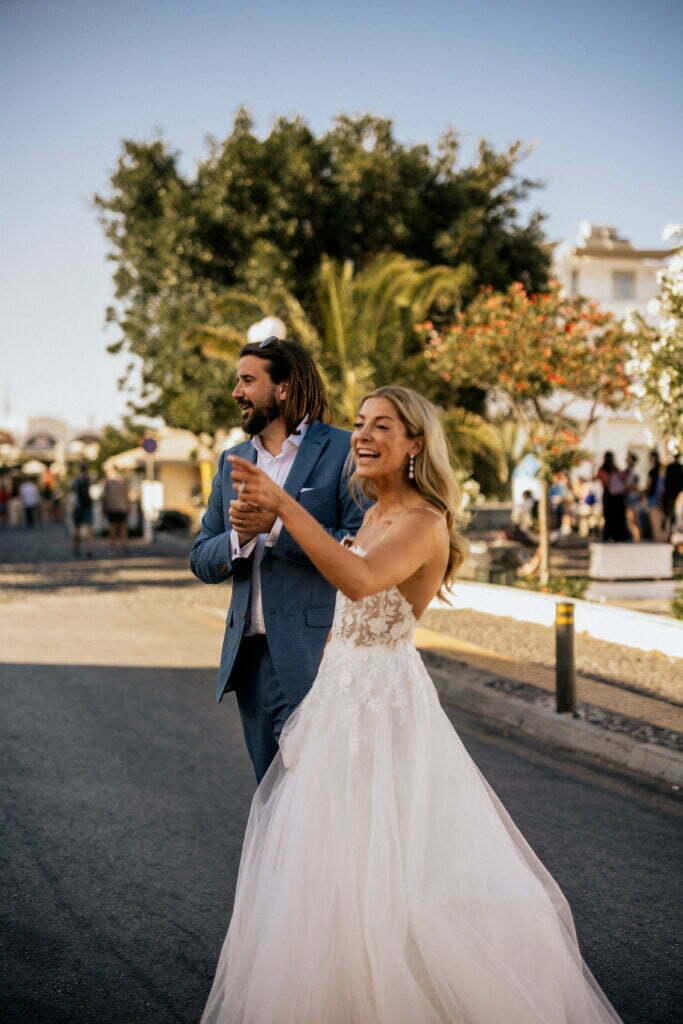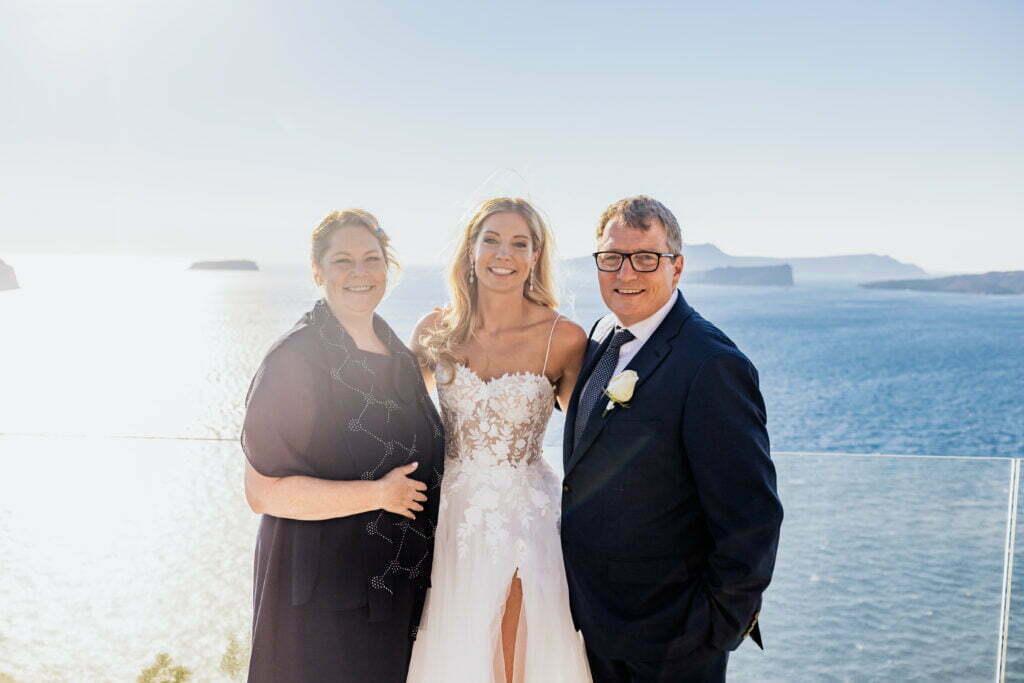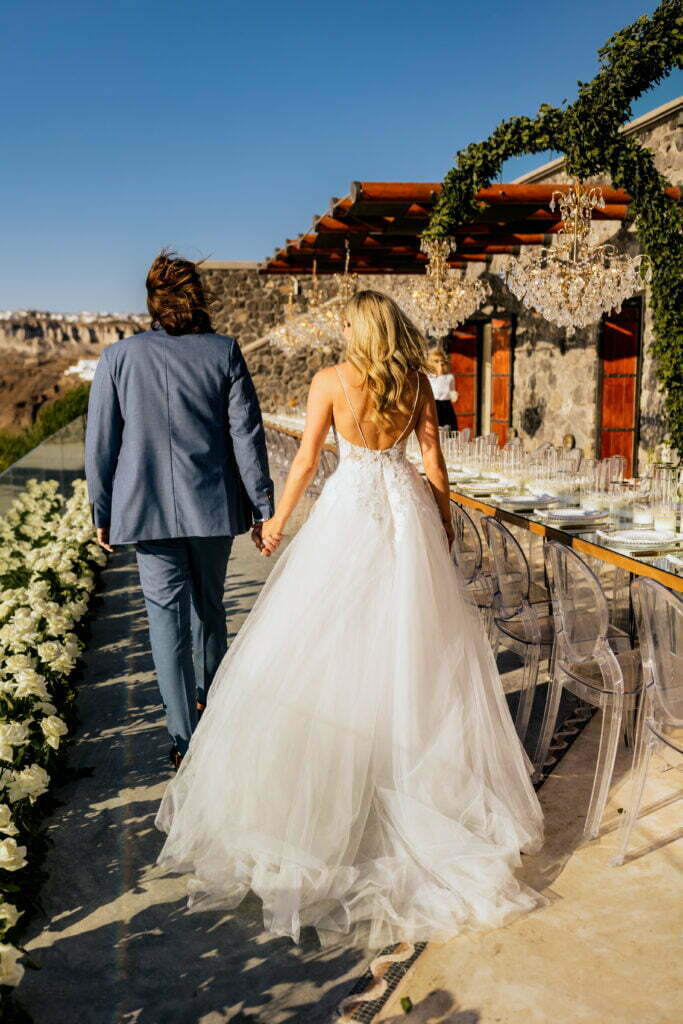 What was your wedding theme?
We chose our venue because it  exemplified our theme of timeless elegance and allowed us to have room for traditional Greek dancing. 

The backdrop to our wedding was a crystal clear view of the Aegean Sea and it had to be the focal point. Beginning with the wedding invitations, we used standard size clear plexiglass with gold foil lettering. Inscribed was, "third times a charm", meaning we changed the wedding date three times - pandemic problems! 

Our dinner area featured a long glass table top full of different sized glass candles, and accented with ghost chairs and clear gold tableware. My favourite decor piece were the crystal chandeliers lining the entire length of the table which were covered in lush greenery and surrounded by our white florals.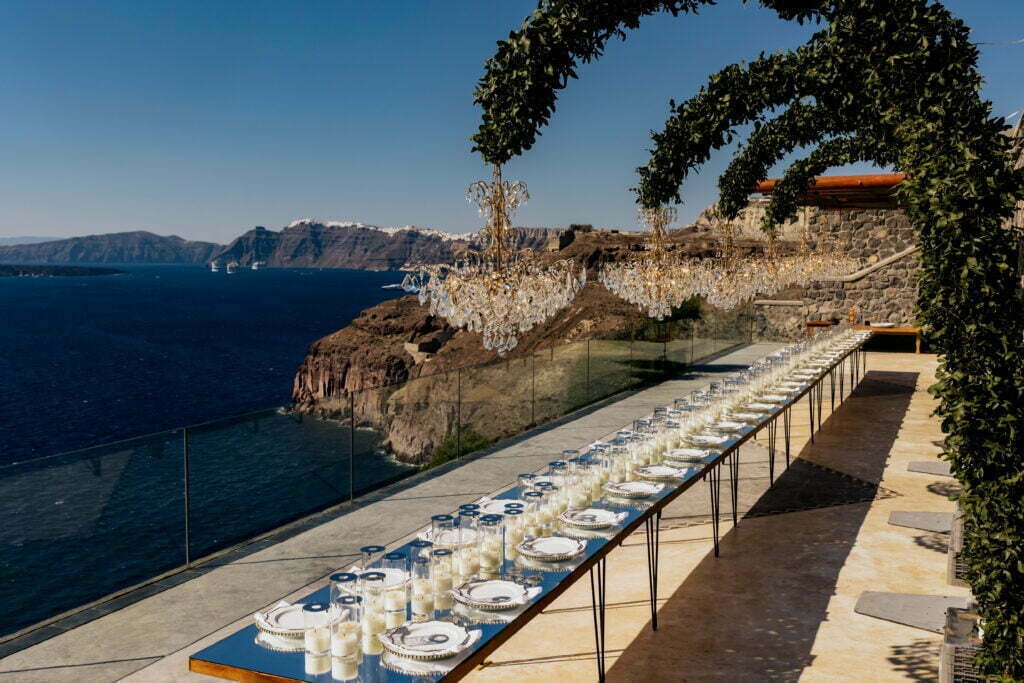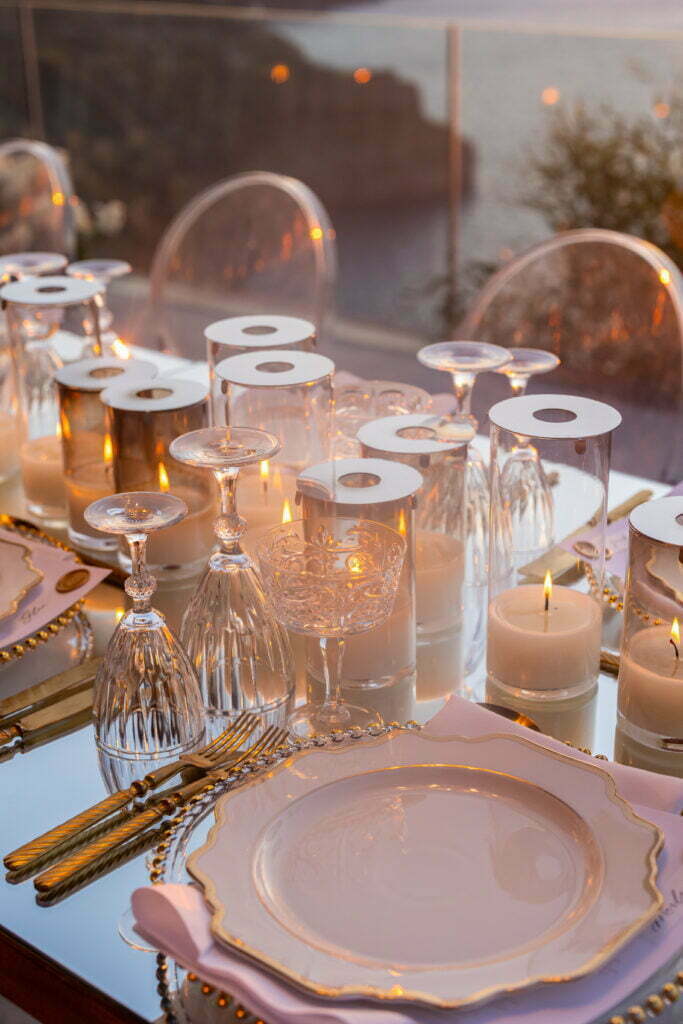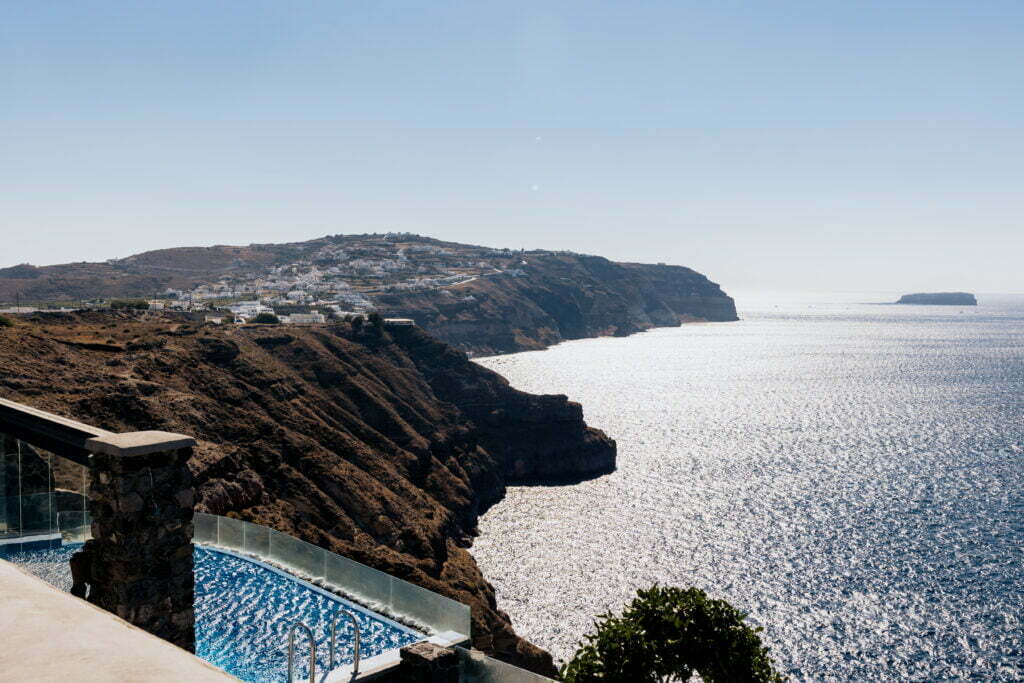 As an homage to the Greek culture we fell in love with, we surprised our guests with traditional Greek dancers who performed multiple dances while including our guests. 

They of course led us through their traditional plate smashing dance which was the most incredible way to start the party! 

We also incorporated multiple Greek dishes at our late night snack table.