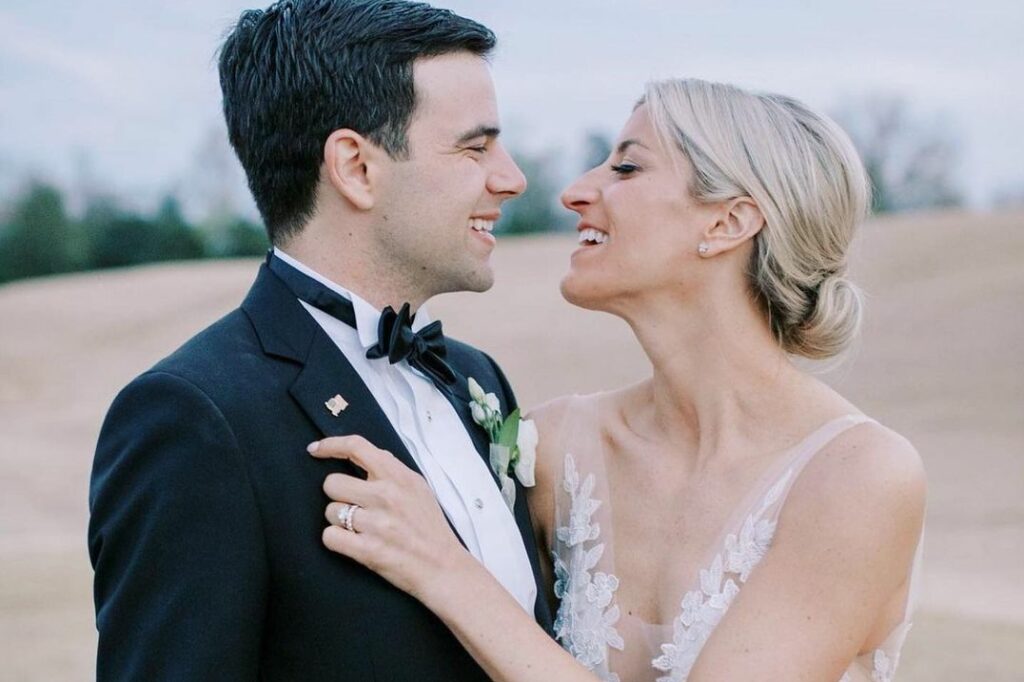 Theme: Colorful Secret Garden Party
Our #MZBride of the week is the fabulous Anne Carter B Crilley who got married in our Suri gown . Surrounded by their family and friends, the couple held their intimate wedding at Anne's hometown country club in Virginia.
In the following interview, Anne shares with us how she started planning her wedding and she knew the Suri gown was "the one".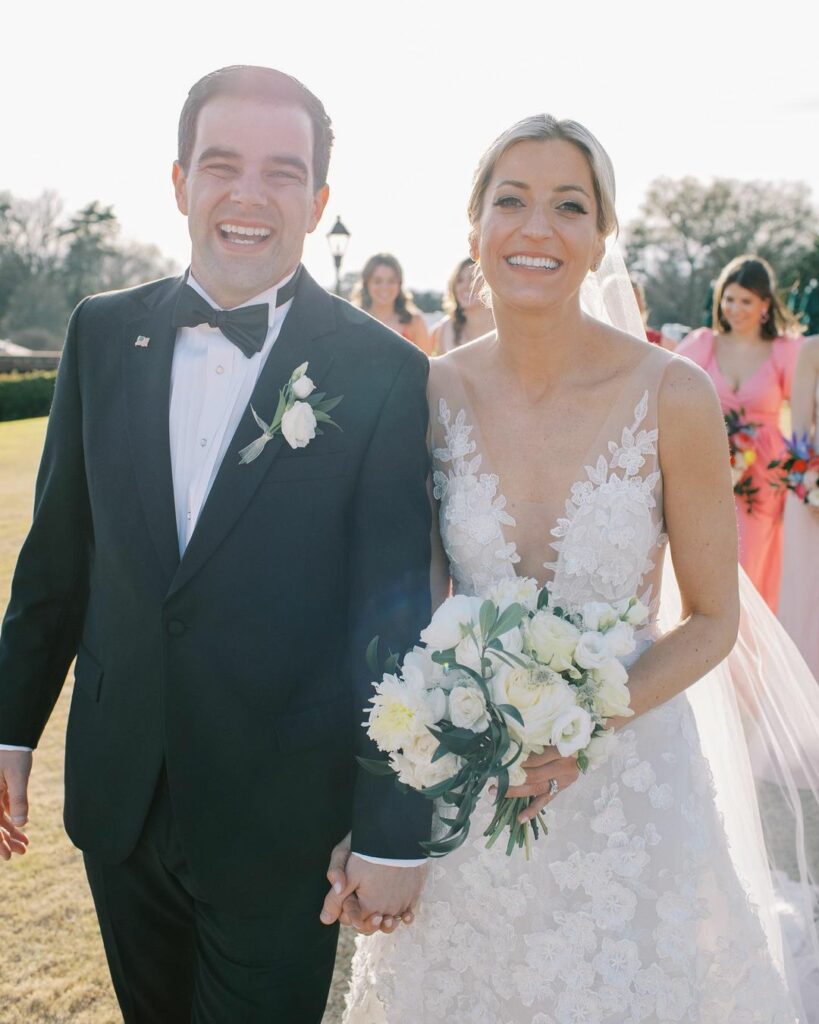 How did you start planning your wedding? What were the first steps?
The first step for us in planning our wedding was securing a date. Pat and I have been together for a while, and we had had a number of conversations about location, number of guests, time of year (spring/fall!) and what type of event we wanted our wedding to be. I grew up knowing I wanted my wedding to take place at my country club in my hometown, where I have many fond memories. Fortunately, Pat was also a fan of the venue. :) 

There were a few dates available in 2022, with April 2 being the first date in spring. We loved the even number of 04.02.2022, and we also liked that our wedding would be the first (or at least one of the first) weddings for many of our guests in 2022. Finally, this early spring date tied well to my vision of a black tie garden party full of vibrant colors and flowers galore. After securing a date, I started putting together a mood board in PowerPoint consisting of color swatches, words, and clips from Instagram and Pinterest to define our vision and share with vendors.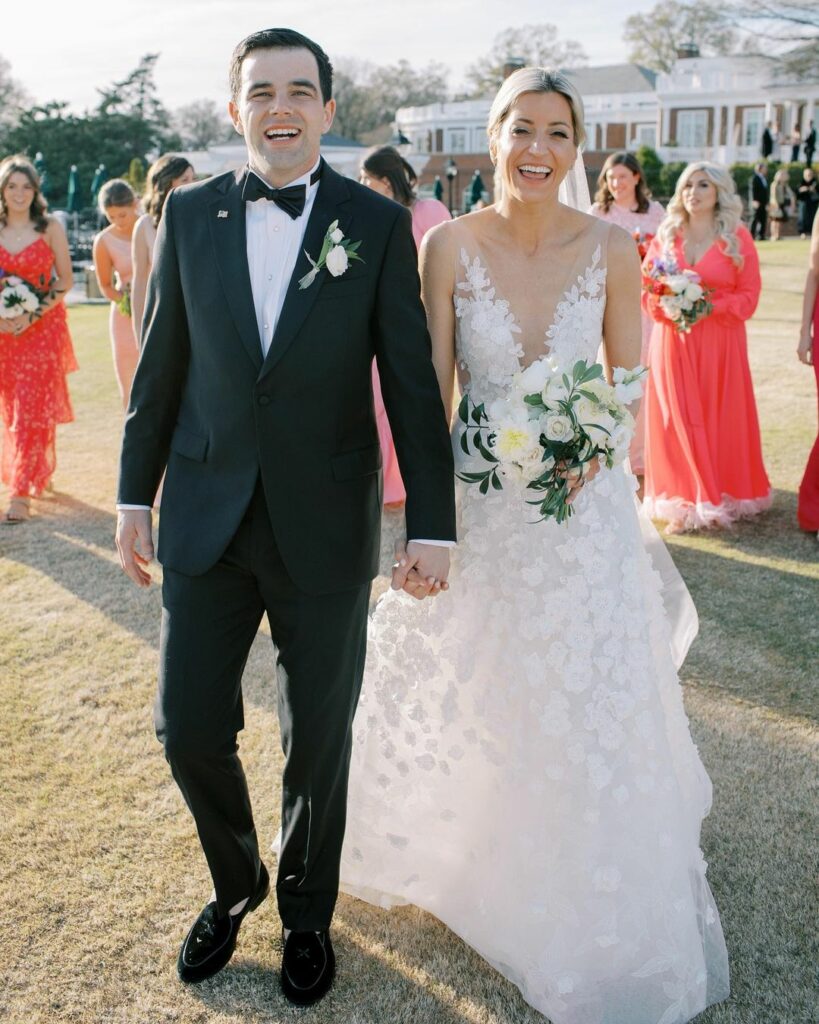 How did you know your dress was 'the one'?
I have been following Mira Zwillinger for years and have always admired the detail of the gowns - they are delicate, sophisticated, and unique. How could you not feel beautiful and confident in such an incredibly gorgeous and fantastic gown? Plus, I love the story of the mother/daughter designer duo! Before shopping at Carine's, I visited another bridal salon and tried on ALL of the dresses (various shapes and even different colors) to narrow in on style and shape. At that point, I knew that I preferred an A-line style. I tried on a few different Mira gowns, and I just loved the detail of the Suri gown, the uniqueness of each layer of lace (I think there were 4 layers!), the stunning floral and embroidered leaves, and the gorgeous train. Plus, I knew I could dance in this dress!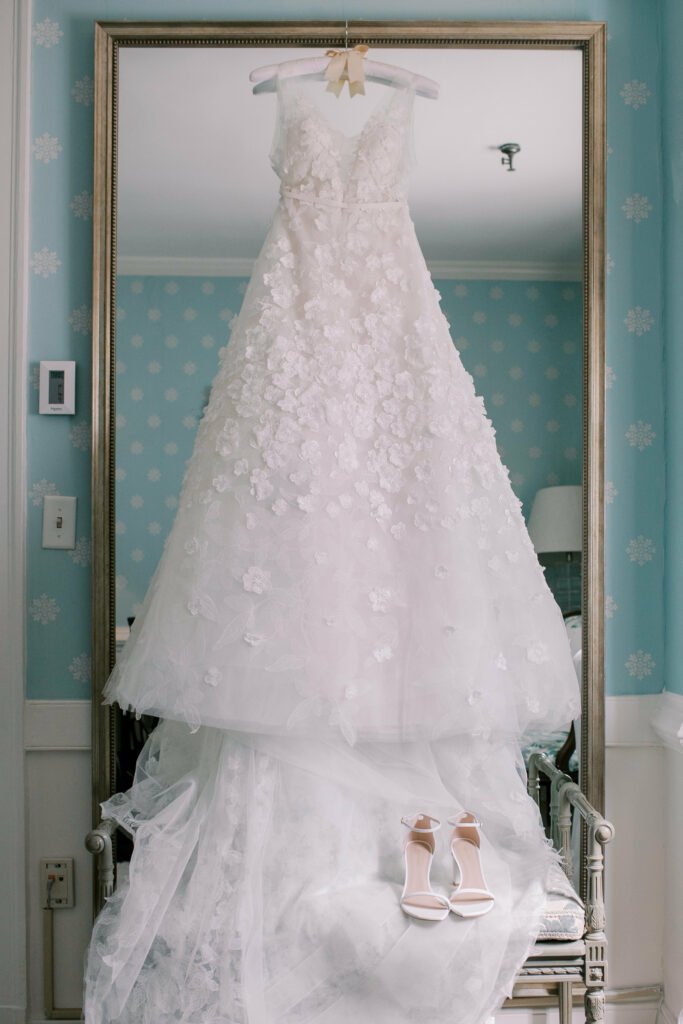 How did you find working with the team at Mira Zwillinger?
The team was fantastic! Upon choosing my dress, I took measurements and was "off the hook" until my dress arrived about 8 months later. I knew I wanted a little bit of extra coverage in my dress, and that is exactly what I got back when my dress arrived. My dress was a near-perfect fit requiring just a few minor alterations. The team stuck to our timeline, honored the minor adjustments I requested, and created a stunning gown that left me feeling like my most confident self.

What advice would you give to all our future brides?
Embrace every moment from the day of your engagement through the wedding - it all goes by so quickly and is such a special period of time. At the wedding, stick together! Take a moment to step away with your new husband, recognize the family and friends who are there to recognize and celebrate your marriage, and take in the beauty of the event you've worked so hard to plan.